Kōkohuia

, 2015, acrylic on board, framed \ unglazed, 420 x 1307 mm 
Kōkohuia is a northern NZ reference to the meeting or gathering of rangatira 'leaders'. Kōkopu is also the name of the freshwater fish (juvenile form whitebait) responsible for helping clean New Zealand waterways where the land is still in good health. The presence of Kōkopu, kēwai 'native freshwater crayfish' and ngā tuna 'eels' is an indicator of purity and health in native waterways. Kōkopu is also the name of a community near the northern base of Whatitiri where the native fish was last seen late last century. Whatitiri is my ancestral settlement west of Whāngārei and is explored in greater detail in my book MAORI ART: History, Architecture, Landscape and Theory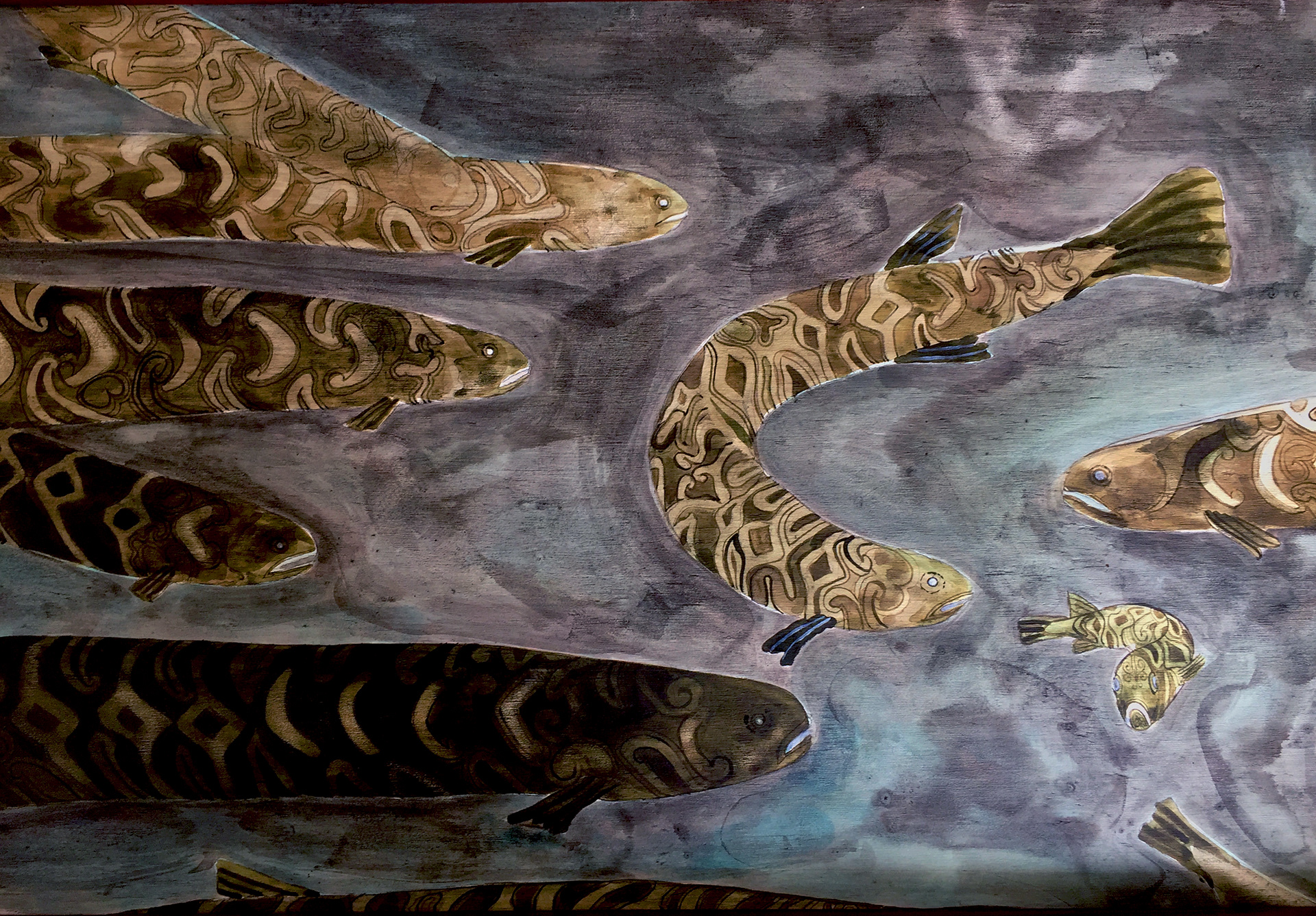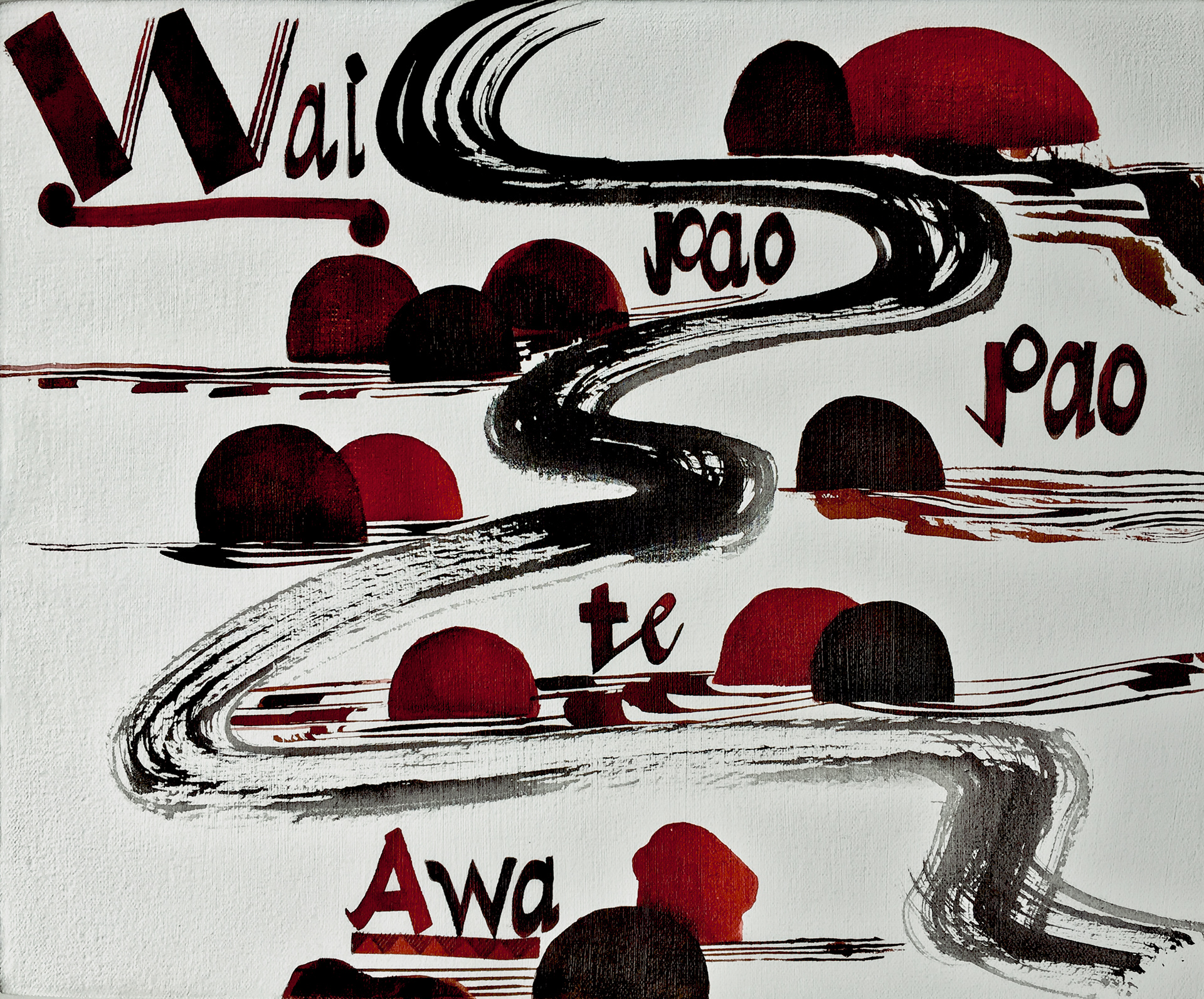 Pao pao te wai, Waipao te awa
, acrylic on canvas, 2016.
$300 + GST

The river with which Te Uriroroi (my hapū) identify is named after the flush of water in summer that once flowed with such force from the underground volcanic aquifers at Whatitiri that boulders and rocks were said to clash and clatter into one another. Pao refers to the kinetic force of these
spring waters
(TVNZ Waka Huia documentary on Whatitiri Springs, see 11:20)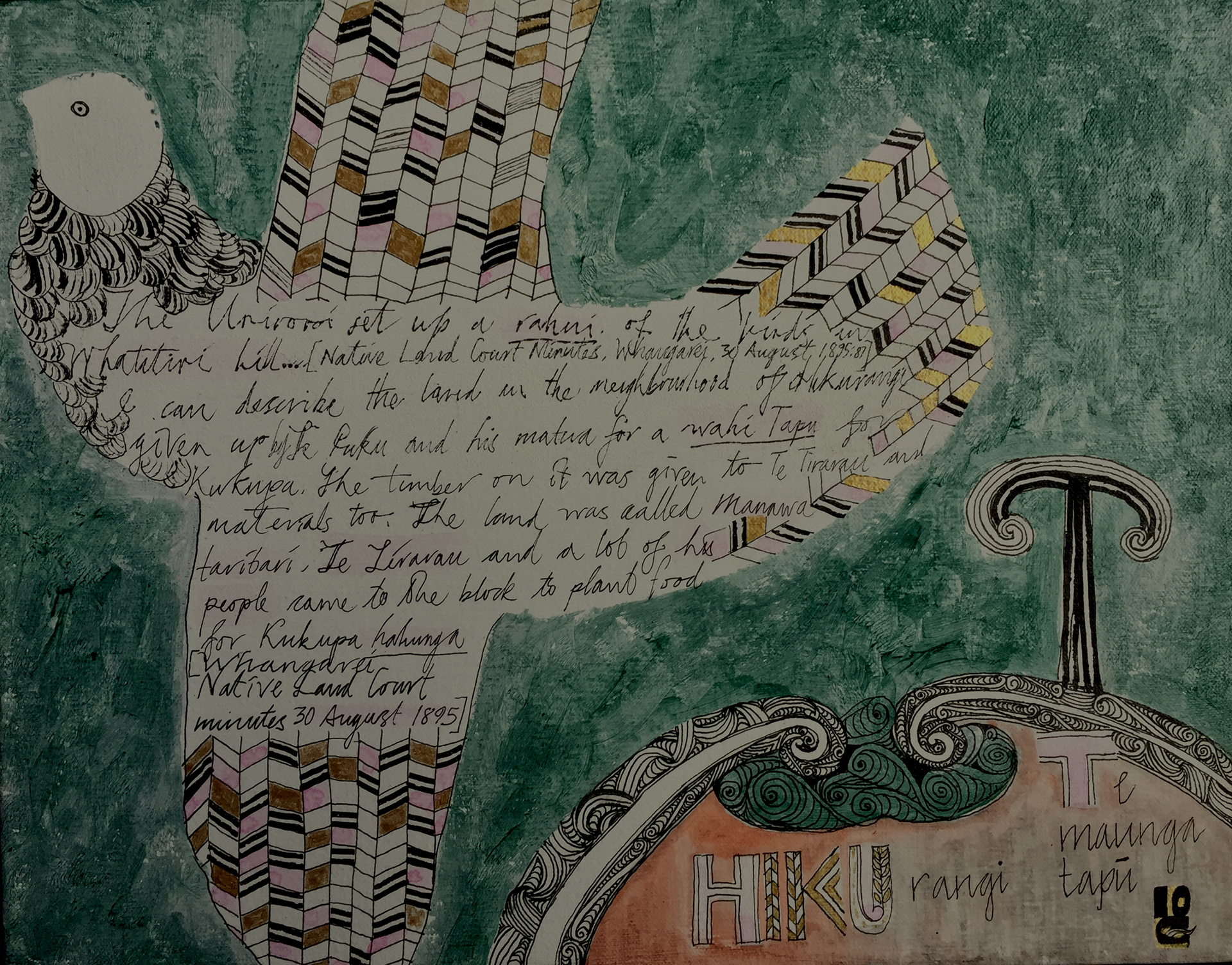 Hikurangi te maunga
, acrylic on canvas, 2016. 303 x 387 mm
$1000 + GST

Another reference to the Te Parawhau leader Kūkūpa and his final resting place at Hikurangi. The script is taken from Native Land Court minutes in the late nineteenth century and describes the importance of the leader and his hahunga 'ceremony for uplifting bones'.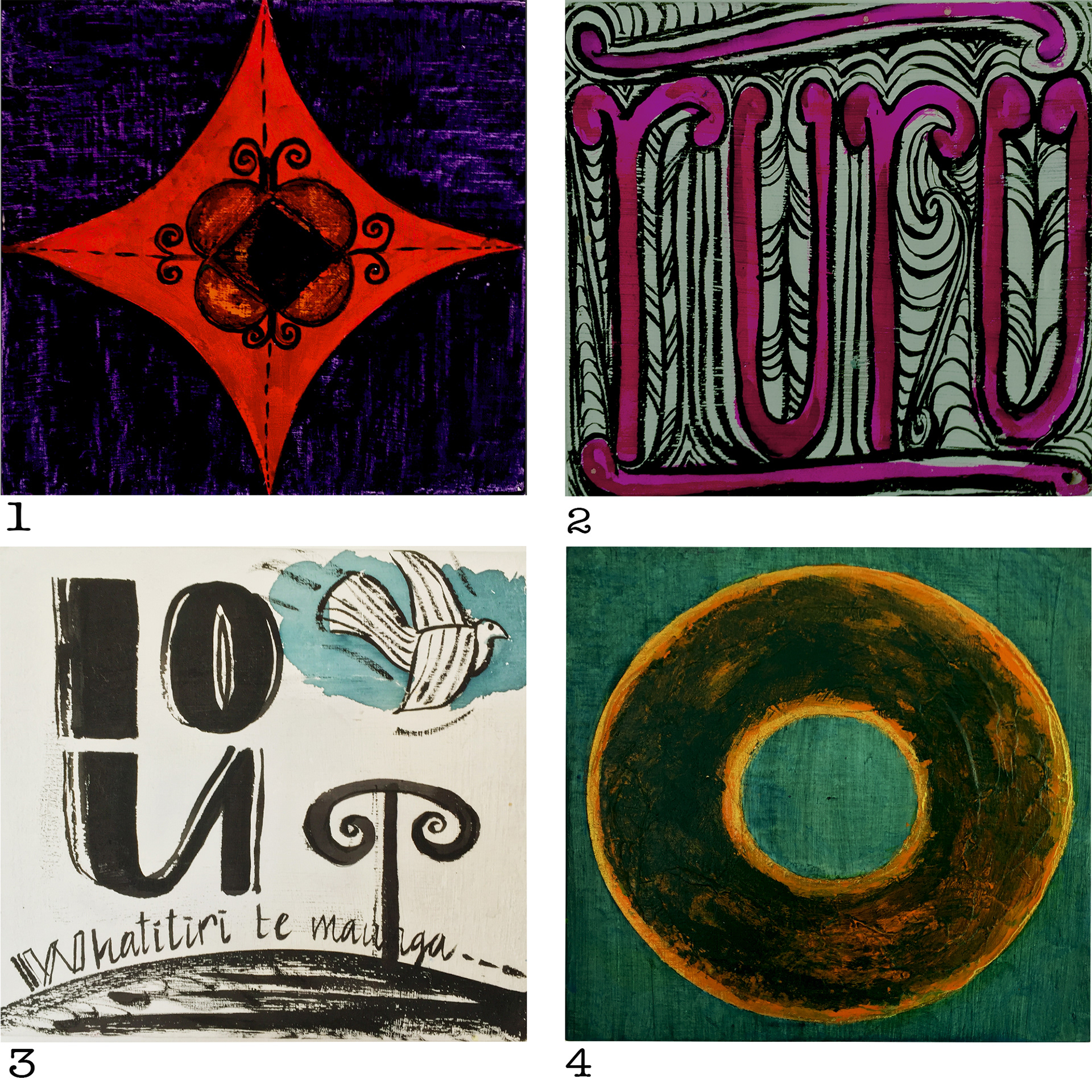 Assorted small works, acrylic on prepared rimu, 140 x 140 mm

$50 each + GST

1. Star
2. Ruru 'owl'
3. Kūkū over Maunga
4. Bi disk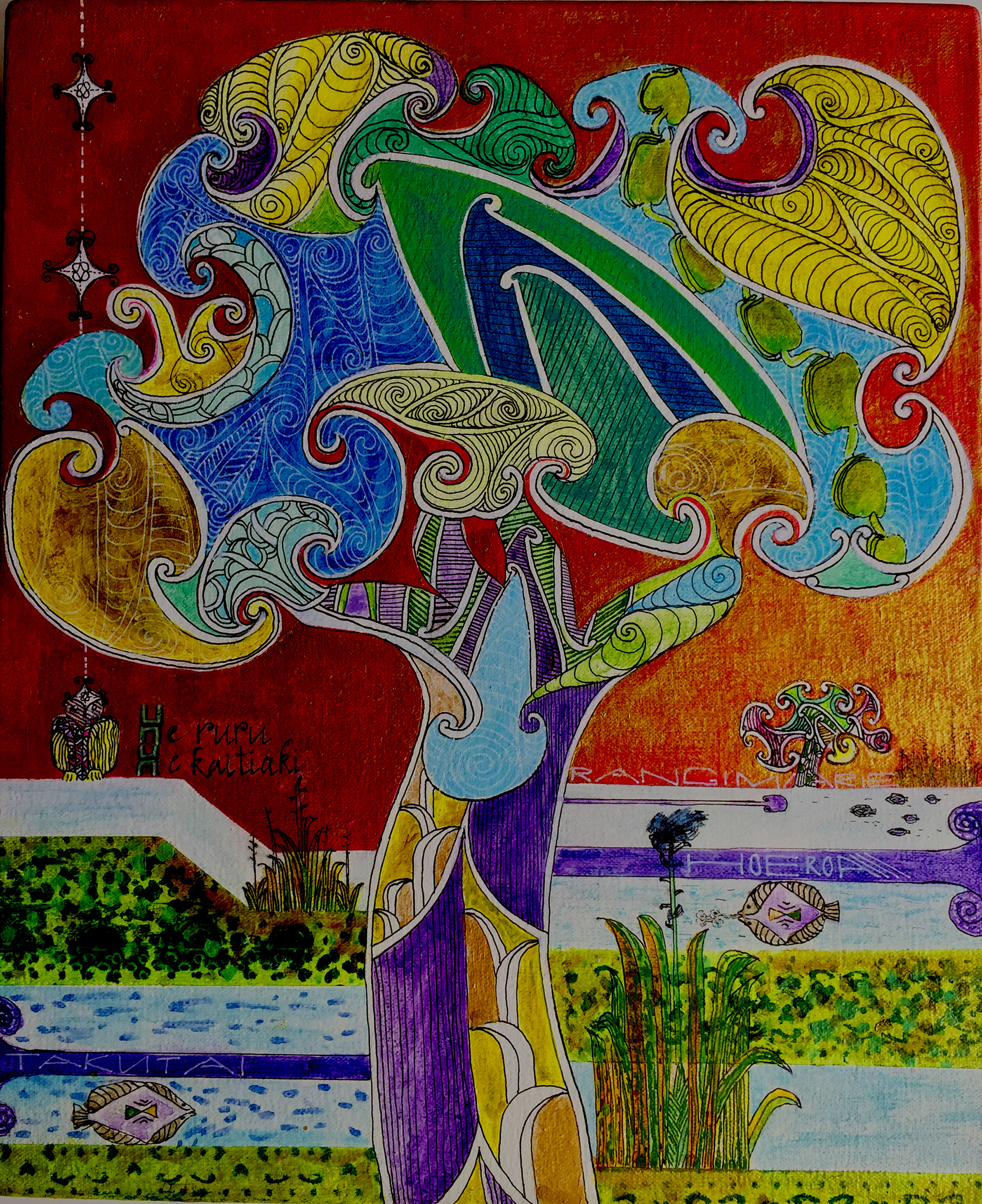 He Rākau Manawa
, Kaipara, 2016, acrylic on canvas. 315 x 380.
$800 + GST

Painting continues around the edges of the work. Various references to the mangroves forests that feature throughout the Kaipara harbour waterways along with harakeke, patiki 'flounder' and a tidal bore named, in three stages, by our ancestors. This is described in detail in a chapter of my book
MAORI ART
entitled Hoeroa 'the long traveller' devoted to the minimalist painter Ralph Hotere.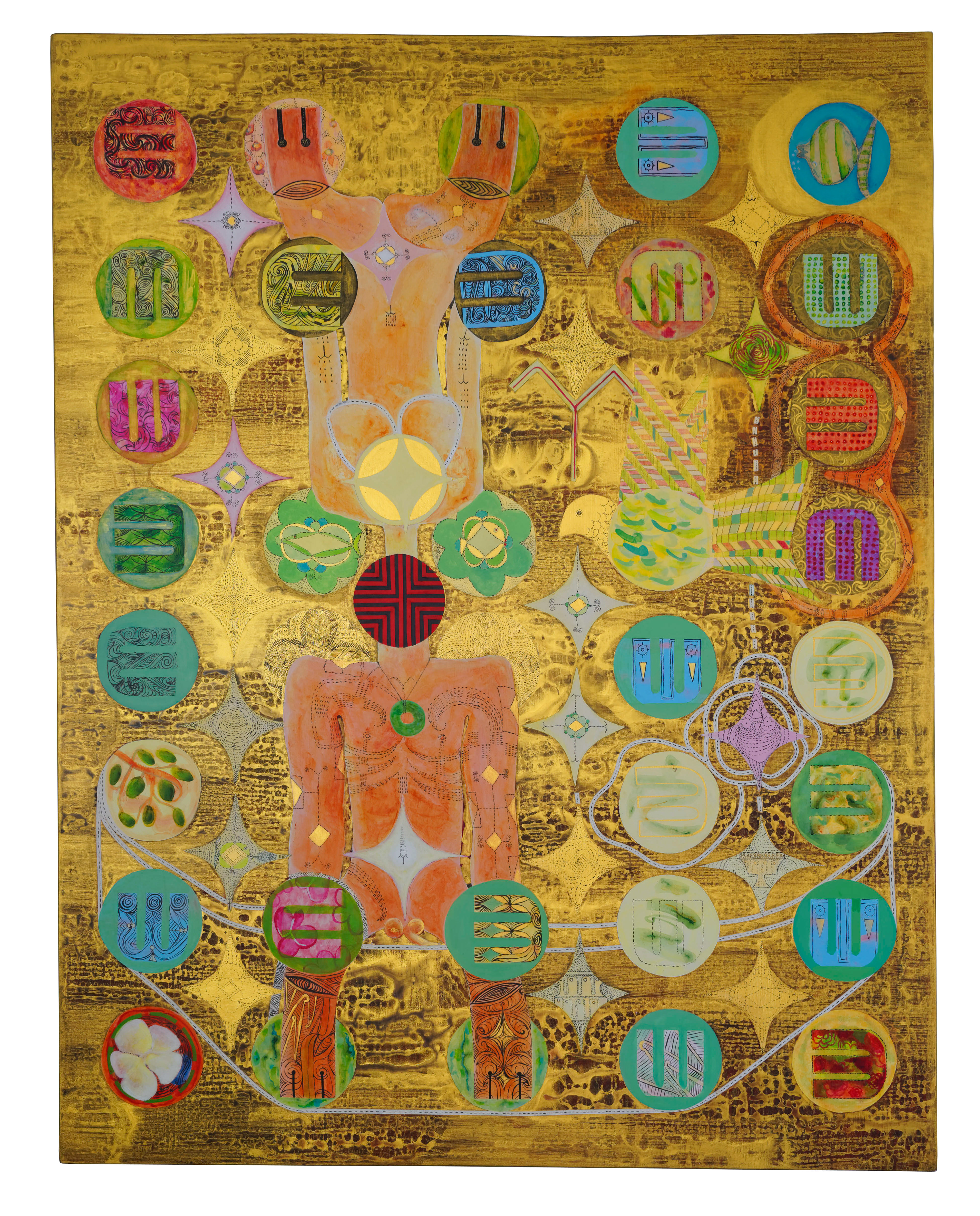 Fiji\Whiti 'The Crossover'
, acrylic and gold acrylic on board, 2016. 1504 x 1200 mm. Photo: Haruhiko Sameshima
$20,000 + GST
There are many thresholds throughout the Pacific where archaeologists, linguists and anthropologists surmise classical gatherings of people, culture and objects. At these sites it is believed that many ideas, materials and tools were exchanged and absorbed prior to new journeys and migratory dispersals. One of the key bridges used to describe this trade and transitionary phase is the Lapita culture. Fiji\Whiti is one of these important crossover regions where Polynesian culture developed. These bluewater boat building and voyaging peoples are referenced in chapter 2 of my book
MAORI ART
. This painting pays homage to the whakapapa of various pottery and jade symbols that have passed down from Southern China to Aotearoa. A further chapter (9) 'Te Hokinga Mai: The Returning II' details these links in relation to both the neolithic Asia/Pacific as well as the contemporary returns by Māori\Chinese artists and government officials to key provinces like Fujian, Zhejiang and Guangdong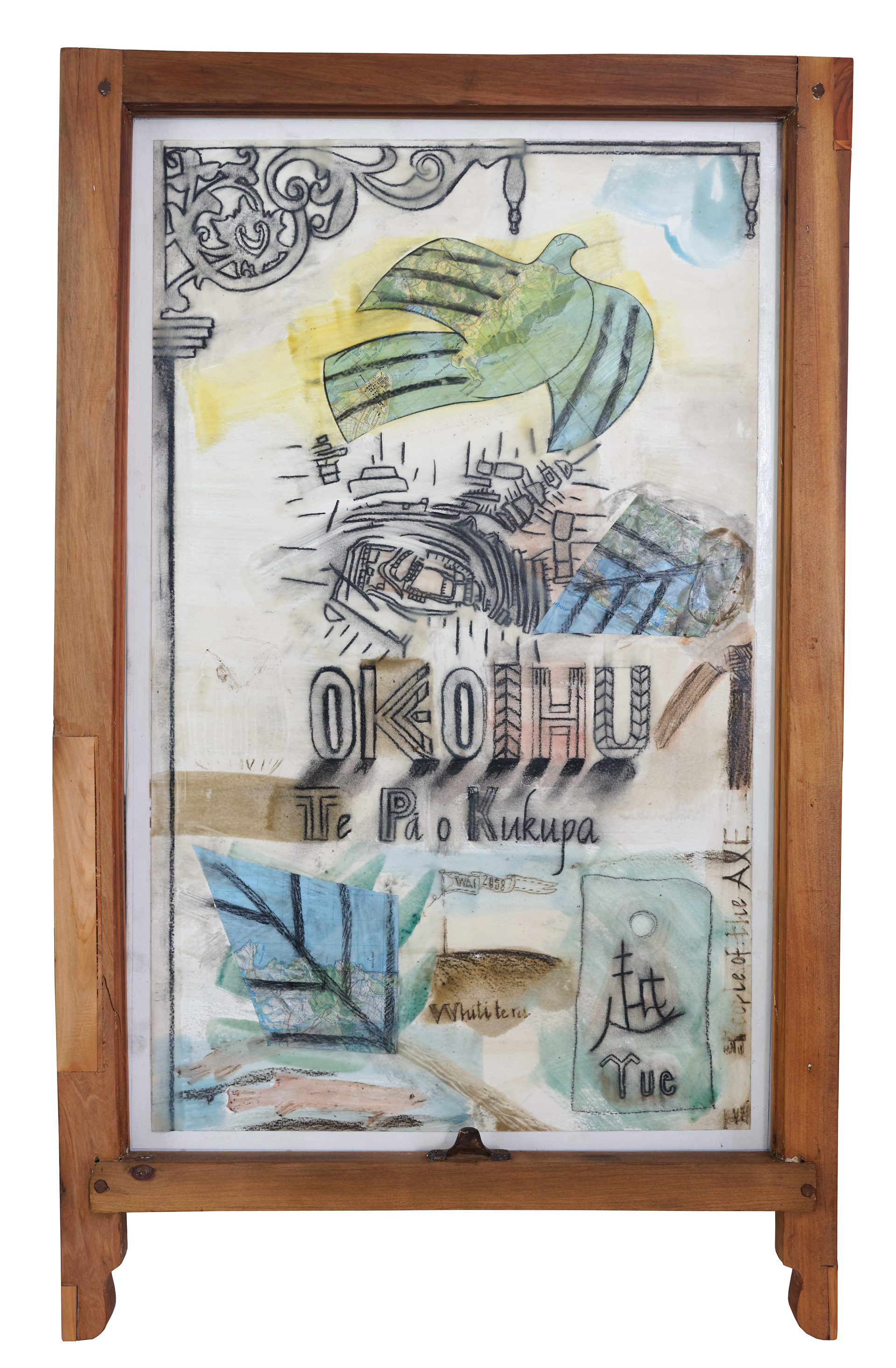 Yueh, 'The Axe People'
, encaustic on board with kauri window frame, 2016. Internal frame 800 x 500 mm
$1200 + GST
The title cryptically refers to the Neolithic proto-Austronesian peoples who occupied Southern China and to those in the nineteenth century in Aotearoa who had a determined fondness for chopping down ancestral forests. We are indebted in very different ways to both genealogies. While the Yueh largely disappeared as a living cultural entity their influence continues to survive in their taonga their jade and in their claywork. The chapter Te Hokinga Mai, in MAORI ART explores their fascinating legacy and the tantalizing points of connection with toi Māori.
Hoturoa me te Korotangi
, acrylics and acrylic ink on board, 2015. 1075 x 500 mm.
$3,000 + GST.

The search for the korotangi and its history is a fascinating quest. It occupies a large part of chapter 9 'Te Hokinga Mai: the returning' in MAORI ART. This essay concerns the Asia Pacific connection in relation to Māori art, its roots and, perhaps, in relation to its future. As an aesthetic form and as a material the korotangi does not belong in a South Pacific context. Its provenance begins somewhere else. But where exactly? Interested? Try reading chapter 9 and thinking more widely about how Māori art already moves beyond the local to the international in its proto-Polynesian formation.


Āku Maunga Haere II
, 2015. Acrylics on cotton paper, 4 framed panels. Each unit 1265 x 975 mm. Overall dimensions, 1265 x 3810 mm.
$15,000 + GST
Acrylics and acrylic inks on cotton paper. Panel 3 is based on the design for the book cover of MAORI ART.
Āku Maunga Haere
is an exploration of loss, mobility and transformation of culture central to the kōrero whakarite 'metaphor' of a vessel that travels into the future with components of the past. The stern and prow carvings of this vessel are based on a late eighteenth century carving style (tuere) that is particular to Hokianga, Tai Tokerau. Perhaps the most stunning example of this tauira, that appears to be based on the form of the eel, is in the
British Museum collection
.